[Update: Added the unpacking video and post trip review]
I went south of the border to pick up a lot of my stuff for the TAT yesterday and with it was the pannier system that I'm very much looking forward to using. I really love the companies ethos, which is to openly develop their products and make stuff that they personally want to use.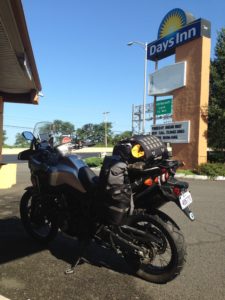 On first impressions I am really chuffed with the system. Everything seems of a high quality with really hard wearing fabrics and straps.
They system is basically a harness in which dry bags slide. The details are superb and you can really see the head scratching that went into the design of all the little details.
Unfortunately the Africa Twin has huge hips in the form of grab handles that cannot be removed because the seat is attached to them, but for now here are some mounted pics. I don't have time to mess with it before the TAT but hopefully someone will make a more minimal handle system.
Mosko Moto page for the R80.
---
So how did I find the system after the trip? Read on…
Well my judicious research paid off because I really can't imagine a luggage concept that would be better. I had no idea but non-motorcyclists can't really comprehend what is required of a luggage system, illustrated by the slow realisation of my friend Ishita. When showing her my photos from after the trip she asked about waterproofing. I don't think it occurs to most people that everything you have with you needs to be protected from the worst of weather.
"So was your stuff waterproof" she quizzed.
"er.. yeah" I said with a dumbfounded expression "..of course!"
I suppose that people who ride around in cars don't have this constant paranoia that when it rains everything you own is going to get drenched. Unless you've thought hard about what is in where and how to prevent it getting soaked. The blokes at Mosko had this dilemma that is normally sorted out by having some drybags and strapping, tying or bungying them to the bike. They fixed it because other manufacturers have come up with ideas like Wolfman's 'rack and a million irritating clips' idea and Giant Loop's 'stick a zeppelin on and fill it with crap' solution, but Mosko stopped and designed this saddle. I think they looked at those harnesses you see on donkeys and modelled it on that.
It's cool. You divide your crap up into the three dry bags and just slide them into the donkey pannier thing. Other more fiddly crap can be put in the flaps that go over the centre bag; stuff like iPhone cables, leatherman, headtorch. Maps go on the corresponding flap, which you can unclip and pretend you are first world war officers around a campaign table. It really worked like that when Adam and I got lost in the Utah desert.
Then there are two pouches on each side donkey pouch. I stuck less accessible stuff in there like inner tubes, tools and chain lube.
Mounting the donkey thing is a bit of a pain because you need to get it centred and in the right position fore and aft but that's really moot because you only have to do that once in a blue moon. I'd just pull the mount straps once in a while to make sure it was all doing okay.
Security was on my mind a lot at the start of my trip and not at all at the end. I wore a CamelBak which contained all the essentials; passport, cards, cash, which left me a bit more at ease to leave the bike. I think that because the system is so neat creates a psychological barrier to anyone wanting to fiddle with it, a bit like opening a car door, it's really obvious if anyone has been monkeying with it. Added to that, they would have to be pretty familiar with the straps to undo anything.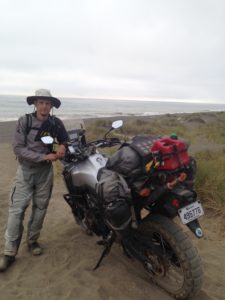 The whole thing is covered in Molle webbing on which you can attach other pouches or strap random crap. Mosko sell some additional pouches especially for this but I wanted to limit my space so purposely didn't buy them, of which I was glad. There are also some metal loops sewn into the back flap which was awesome for strapping a fuel can to.
The disadvantage over rack mounted panniers and systems (like the derided Wolfman above) is that you can't have a passenger on the bike, but really, who wants a passenger when you are riding off-road? The system is designed as an off-road solution so, to me, that doesn't come into it.
Speaking of which I fell off. Quite a few times. In order it was: Mud, Sand, Dirt, Gravel, Rock and the bags don't have anything to show for it. They are super durable. There are a few patches on the dry bags where some kind of compound or chemical got on there and the first layer of rubber is coming off, but I have no idea what caused it. For all I know it could have been an alien bug or a truck ejecting acid?
If you're undecided on a system go and get it; you'll be delighted.
By the way; I paid the full going price for this thing and have no affiliation with Mosko Moto
---
Here is the rather long video of me unpacking the whole thing…
---