Bikers often stop and look at Ginko, most think she's a BMW but often they look at the graphic on the side and exclaim 'oooh… an African Twin, how'd you like it?'
'It's the best bike in the world' I exclaim back, in a calm tone.
The thing is, most people who own bikes have this weird loyalty to their bike. I think they need to justify the pain of motorcycle ownership and their particular choice. I chose Ginko for a very specific reason. I needed a bike to ride a thousand miles on road then five thousand off road and another couple of thousand back.
---
I've owned and ridden sports bikes, dirt bikes and adventure bikes and the Africa Twin checks all those boxes. On the road you can cruise at 100mph and have plenty spare, then dart onto a track and be crawling up a 60° rock slope at less than walking speed. It'll keep up with a sports bike in the twisties and plough through sand and mud. In town it's quiet and sedate with a subtle thrum which turns people with 'how big is it?' They're always surprised when you tell them.
On the dirt the traction control is magic. Leaning into a dusty corner you only need pin the throttle and she'll perform the perfect powerslide which is often the only way of aiming to the corner without coming to an awkward stop. With the peach of an engine you can achieve things you would have thought impossible. It's a tractor and a drag racer in one. Magic. How the engineers managed to map the fueling, cam timing and ignition to make it that flexible I don't know? A large, low, bow of humbling gratitude to them.
---
And the suspension?? Ohh. That feeling when you bite into a fresh eclair. It's incredible what the suspension has had to deal with. I honestly had no idea until I was in Idaho, riding an awful trail through the Craters of the Moon national park; a windy, desolate wasteland of volcanic rock and extremely rutted tracks. I looked down at my shadow and saw the front wheel doing extreme duty, following the terrain like a stalking cat at warp speed. In the Rockies I was leading Adam along a fast undulating dirt road and crested a small rise to see a four foot wide trench. My natural reaction of decades old mountain biking is coast over on the rear wheel (manual) but instead I grabbed some throttle and unweighted the front wheel. The suspension took the brunt and we came out unscathed. Incredible for a 500+lb machine with full luggage, fuel and water aboard. Maybe this is why Adam dubbed it "..like a Japanese War Horse"; a samurai wouldn't look out of place on it.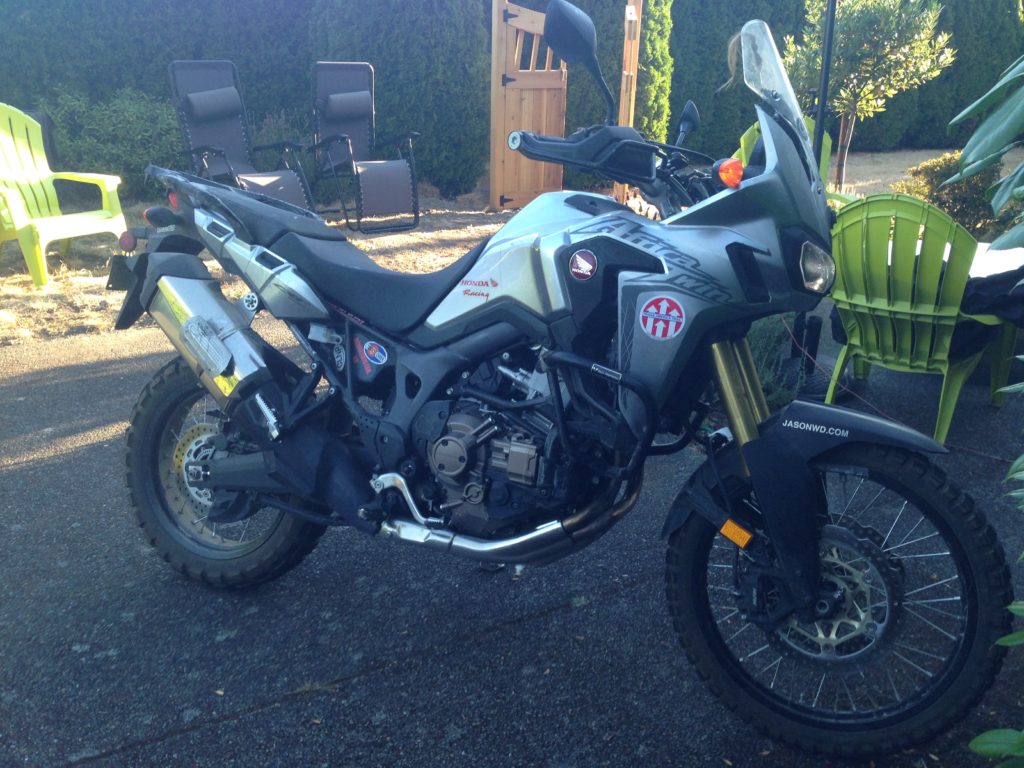 Being a completely average male human (I have sample sized everything) is useful in the ergonomics department. I can stand on the pegs and hover there for hours or sit and be about as comfortable as a tank of fuel lasts. The screen was a major point of annoyance. On the way down to the southern states my head was being buffeted in a major way. Imagine a pair of irritating children, one on each side of your head slapping your helmet in succession. It gets old quickly. The screen also delivered air directly into my face which wasn't helpful. Luckily Matt in Arkansas solved that problem with a makeshift modification using a brand new chainsaw shield that he butchered. I also added some Sugru to the bottom of the screen because I thought the steel GPS and screen mount would eventually succumb to fatigue stress. It helped a bit, but if you plan on any extended dirt riding with a GPS where it was designed to go then a strengthened screen/GPS mount would be a must. The only other complaint I have is the passenger footrests which have bruised the back of my legs because they stick out at a right angle, but the flip side is they act as rear crash bars.
---
I gave quite a few people rides. I wanted them, mainly, to experience the incredible gearbox. Most think of it as a car automatic but it's clearly not after a few hours of riding. The novelty soon wears off and you begin to trust when and where it shifts. It was a complete boon on the super tight switchbacks in the rockies where I often chose the steeper rock line to the outside looser one. The clutch did an unreal job of keeping me trucking, often at sub-walking speeds.
There are five modes:
Drive – on the road it feels like an ancient single cylinder. Chugging is the only way of describing the feeling and sound. Most bikers would want to shift so the engine revs a bit freer, but it has so much torque that you can just throttle around anything. When I was riding long stretches with Adam I could stay in 6th for hours and chug along next to him with astonishing fuel economy
Sport I – Like drive with a little more pep, I used this on most of the Colorado passes and through the Oregon back trails. With the G button it was like riding a slightly more modern 650cc single.
Sport II – For roads where you need power after the apex and really great engine braking this is my preferred. The bike would magically shift down when it sensed an upcoming corner and hold a gear for the next flip flop of a tight 's' bend.
Sport III – If there is some idiot in a sports car who wants to try his luck then hard shifts and neck snapping thrust is at your disposal. I don't select this much because there is so much torque available low down and the revs aren't really that nessecary. It makes the bike sound cool on overrun too… If you happen to pass some Harley riders.
A/M – A little button on the right hand bar selects manual mode for mountain bike like shifting. Hit the button and the bike won't shift, even into the rev limiter. The only real place I found this useful was in deep sand or mud where the rear wheel needed to spin to maintain forward momentum. Even in this mode the bike would shift down automatically to prevent you stalling.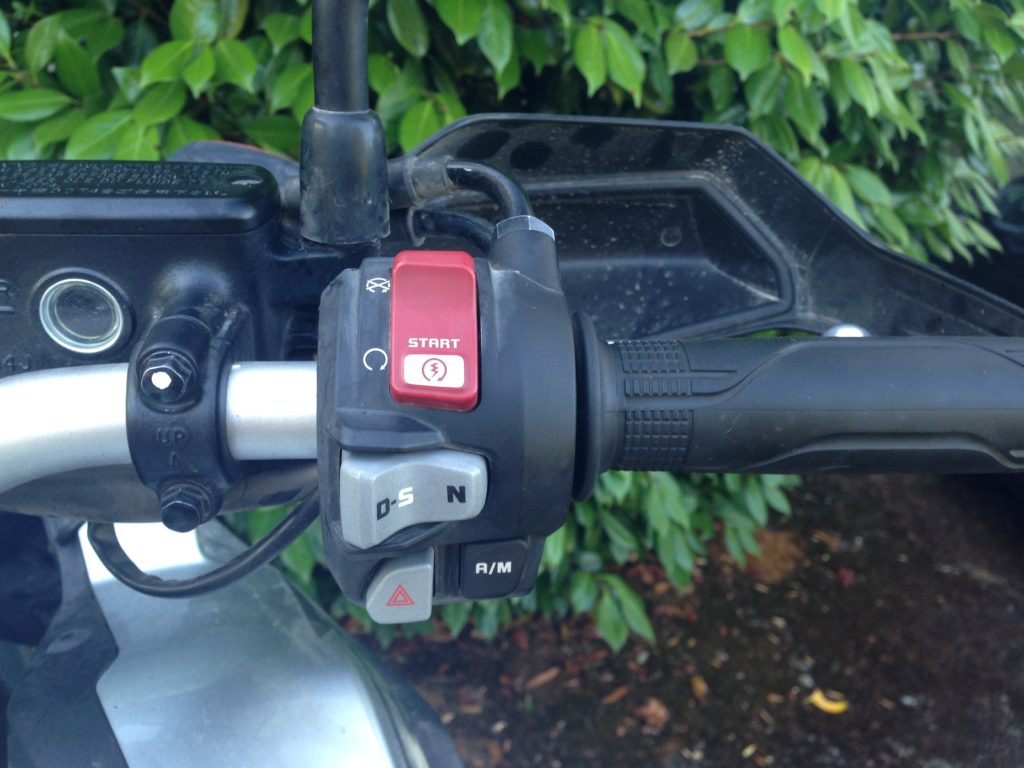 The clutch engagement is aways spot on when you are in a normal situation but on tight u-turns on dirt it's a bit of a pain in the ass to be honest. I dropped it once when it was very late and I was a bit buzzed. That very subtle clutch drag you do on a tight turn is impossible to judge, even after seven and a half thousand miles. Also when I was really disturbed (like after the whole 'oil exploding out of the front of the engine due to an idiot Honda tech' debacle, I actually still try and grab the invisible clutch lever.
My only real bugbear is the electronics. I would often start and stop the engine on very technical terrain to enjoy the silence, have a wee or chat to jeep drivers. When you turn the key again the dash lights up and the bike acts like a forgetful narcoleptic. All the settings disappear and you are left with full traction control, drive mode, ABS on and gravel mode off. It's actually dangerous sometimes because trying to climb a steep stony switchback in default could end with the bike going nowhere and you falling to a horrible stony death. So the routine of switching on, drive to sport I, traction control to I, ABS off and gravel mode on became a regular chore. Very boring.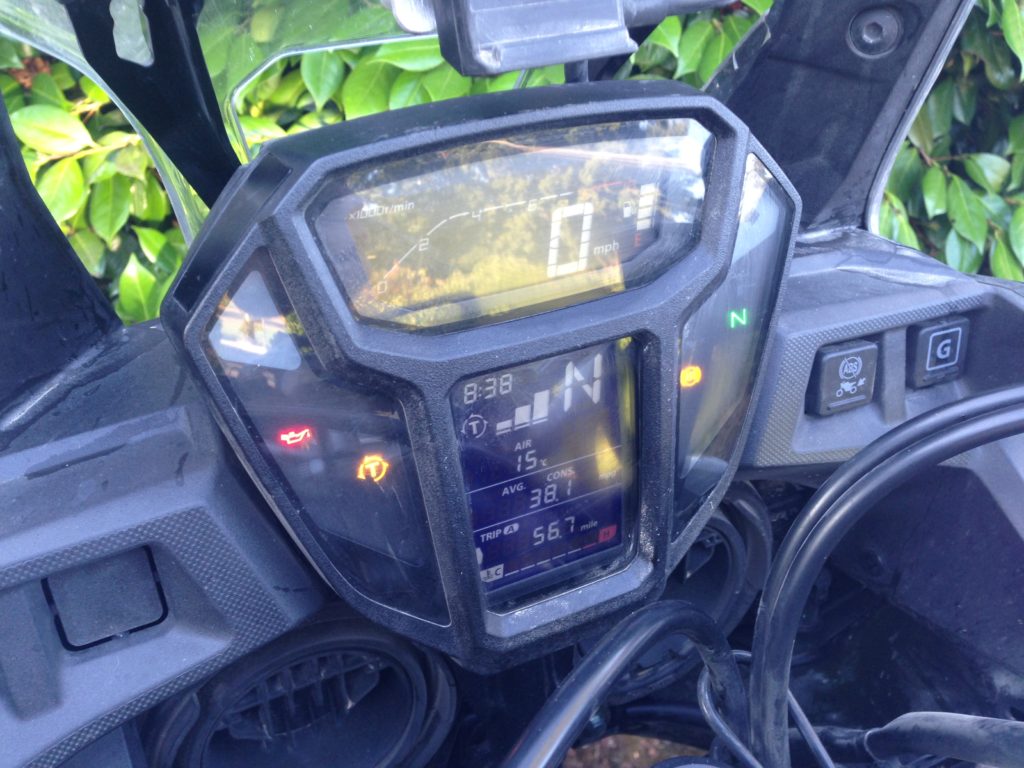 With this comes the side stand cutout. You can't engage a gear without raising the stand. Now you're thinking 'Jason, that's stupid, why would you want to do that?' Well; say, theoretically, you've dropped your bike in deep Arkansas sand and you are desperate not to have to pick it up again because it took all your remaining strength to pick it up… theoretically. You really want to walk next to the bike with the stand down so you can motor it along and lean it down when the bike gets away from you. Not possible. By the way this also, theoretically, can happen in New Jersey quicksand…. and Mississippi mud.
Hopefully some clever person will come up with a solution to this problem because, in the end, it's just software and then we will have the perfect bike.
After over 10 thousand miles on a single trip my opinion is firmly cemented. It would take a lot to surpass this bike, so much so that I am even thinking I'm not worthy of it. I hate to think that Ginko will be sitting in a garage over winter then on my deck in milder weather waiting and waiting for her next big adventure when all I have to offer is a quick blat down a dirt road. She yearns for adventure.