The Colorado passes are a ride of a lifetime. In a jeep it must be spectacular, trundling up unthinkably steep rocks and looking over the edge to a certain doom. In a bike it is terrifying. On Ginko the switchbacks are about as tight a corner as you would normally do, except there is also loose rock and extreme steepness. Doing down I disabled the ABS on the rear wheel and slewed the back like a storm anchor on a ship. One corner was so loose it was impossible to stop the weighty war horse (as Adam calls her) so we skidded and slid down the loose rock sideways until we were inches from the edge.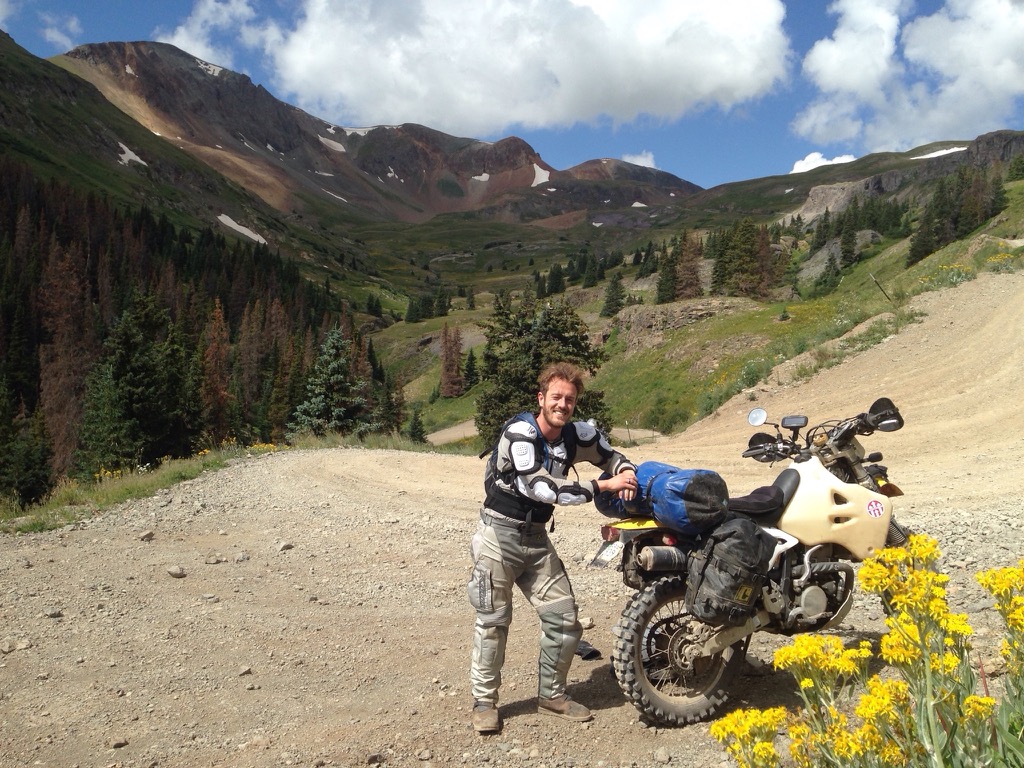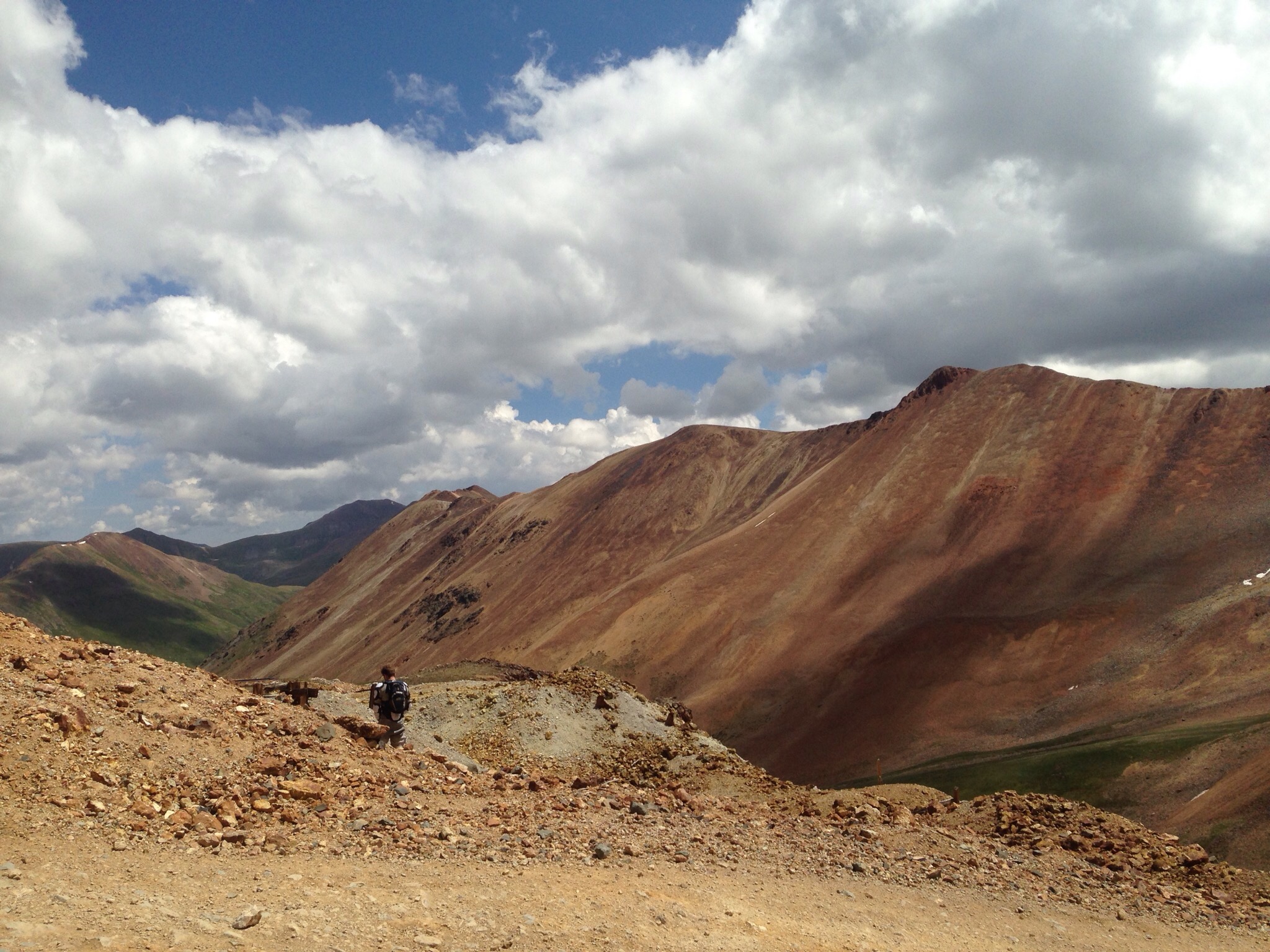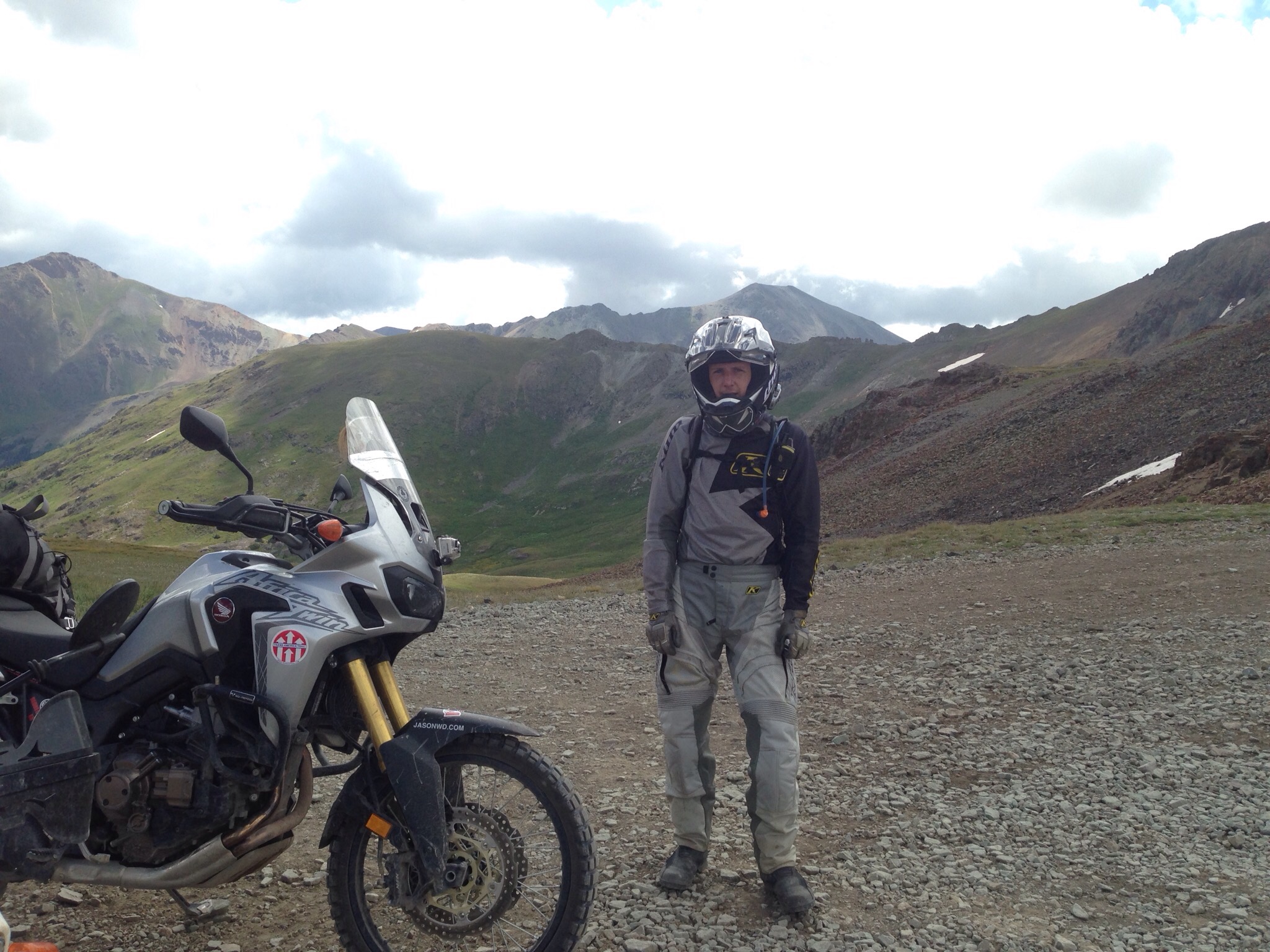 I'll have to look at a map, but we rode quite a few passes and camped in between at a national forest campsite, setting our tents up military style in the teaming rain when a little, mildly officious, lady approaches us for the $14 fee to camp. In our rush to find a spot we didn't realise there was a massive trailer behind the trees with a generator running to power the huge TV we could see through the tinted window. I don't understand why these people come all the was to the beautiful countryside and sit in humming air conditioning watching soaps through the satellite receiver placed on the picnic table. It seems I did a bit of killing along the way too…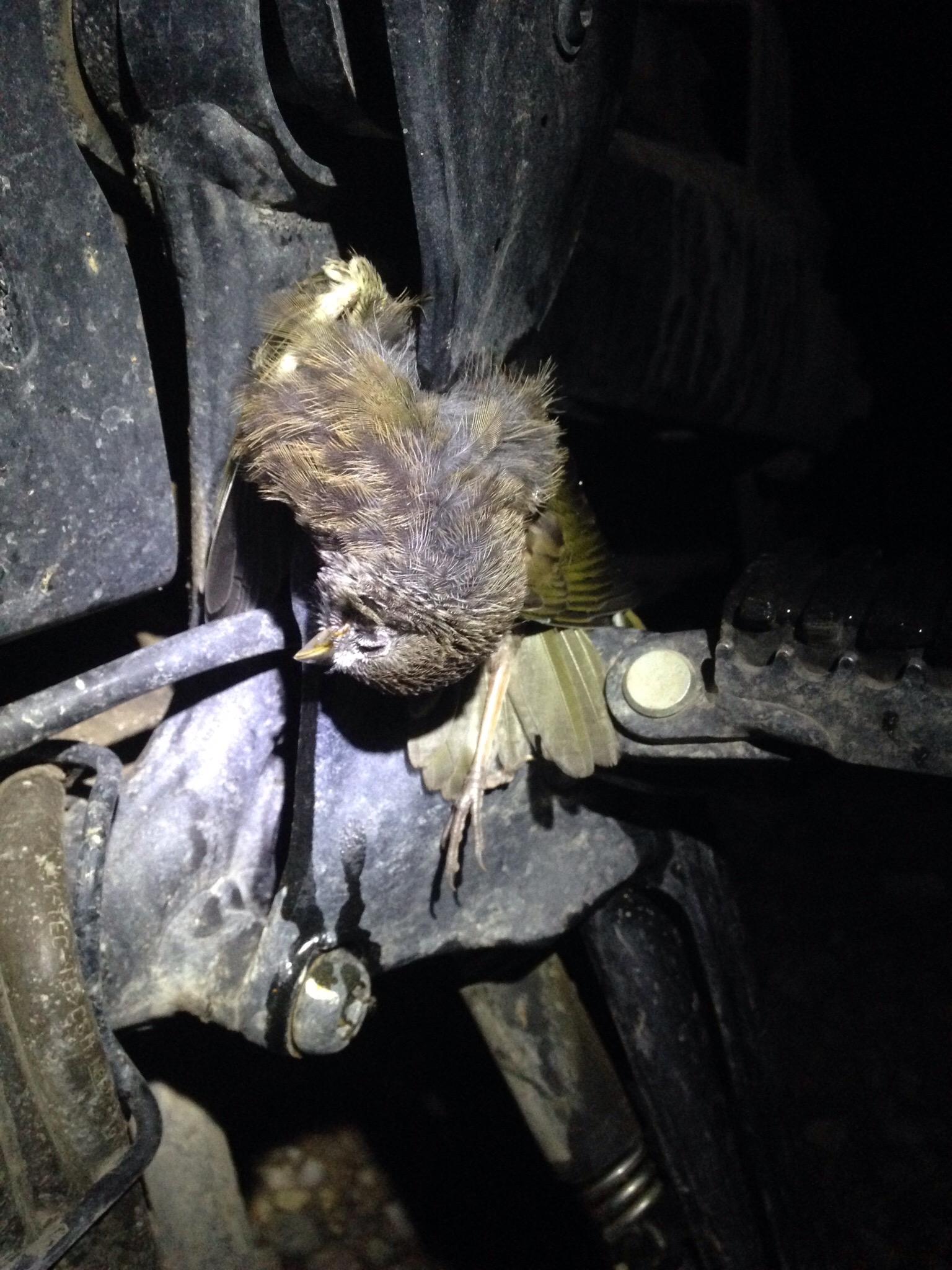 It's a different experience I suppose. I'm sitting under the cover of a rodeo arena in my sleeping bag listening to coyotes howl over whatever they caught for breakfast. The sun is just ebbing over the mountains to the east. More of that later.
Our last pass ended with a really fun ride through the tree line and mud whoops, snaking down to a pair of dudes arguing over a map. Their fresh bright orange KTM Adventures parked patiently and packed to the neighs, they sat and discussed how best to tackle the passes. Adam has a better memory for names so explained our route which at first they thought impossible, at one point gesturing to my bike and exclaiming 'On that?! You guys are the real deal!'.
I told them how great Ginko was to ride and convinced them to have a go. Returning Mike said "I'm getting rid of that piece of shit KTM and getting myself one of these as soon as I can. This thing is amazing!"
Quite the reaction from someone who just bought a new bike!

Mike and Mark
When we reached Salida (sa lie da) adam's bike was still building up huge pressure in the oil tank. He would have to stop and release the cap to relieve the engine for fear of a gasket of hose blowing off somewhere.
Farther up the trail we came across two guys on KLR 650s. Scott suggested we visit Dustin in town. What a magic geezer. He stood in the rain pulling hoses and finding the culprit.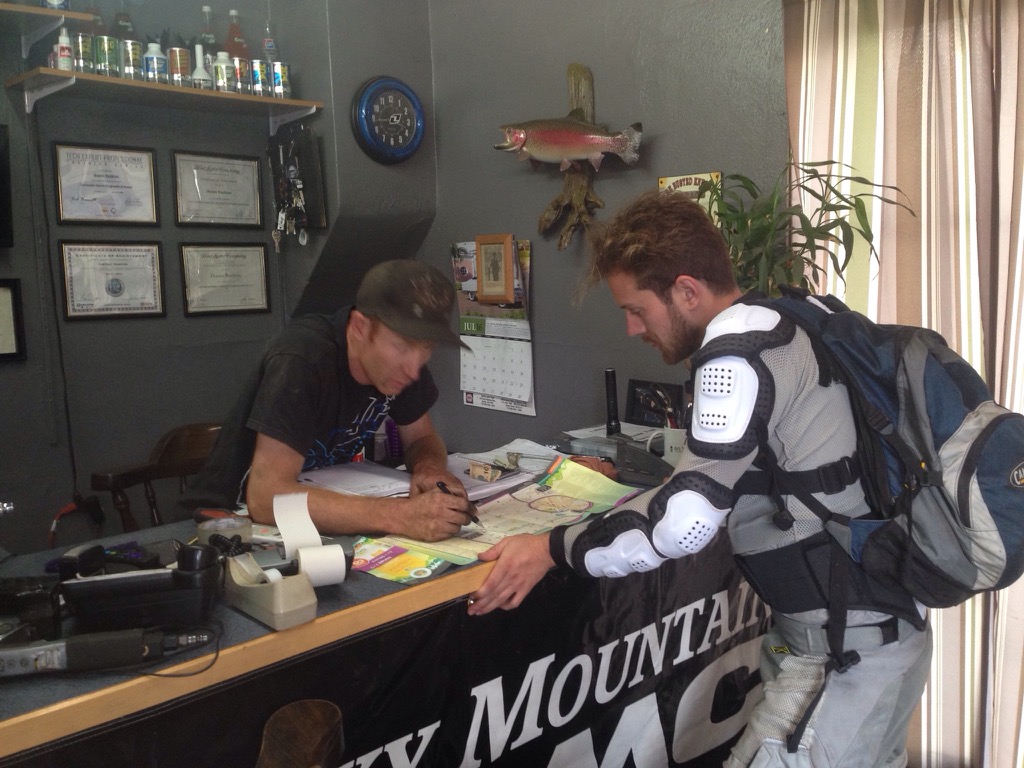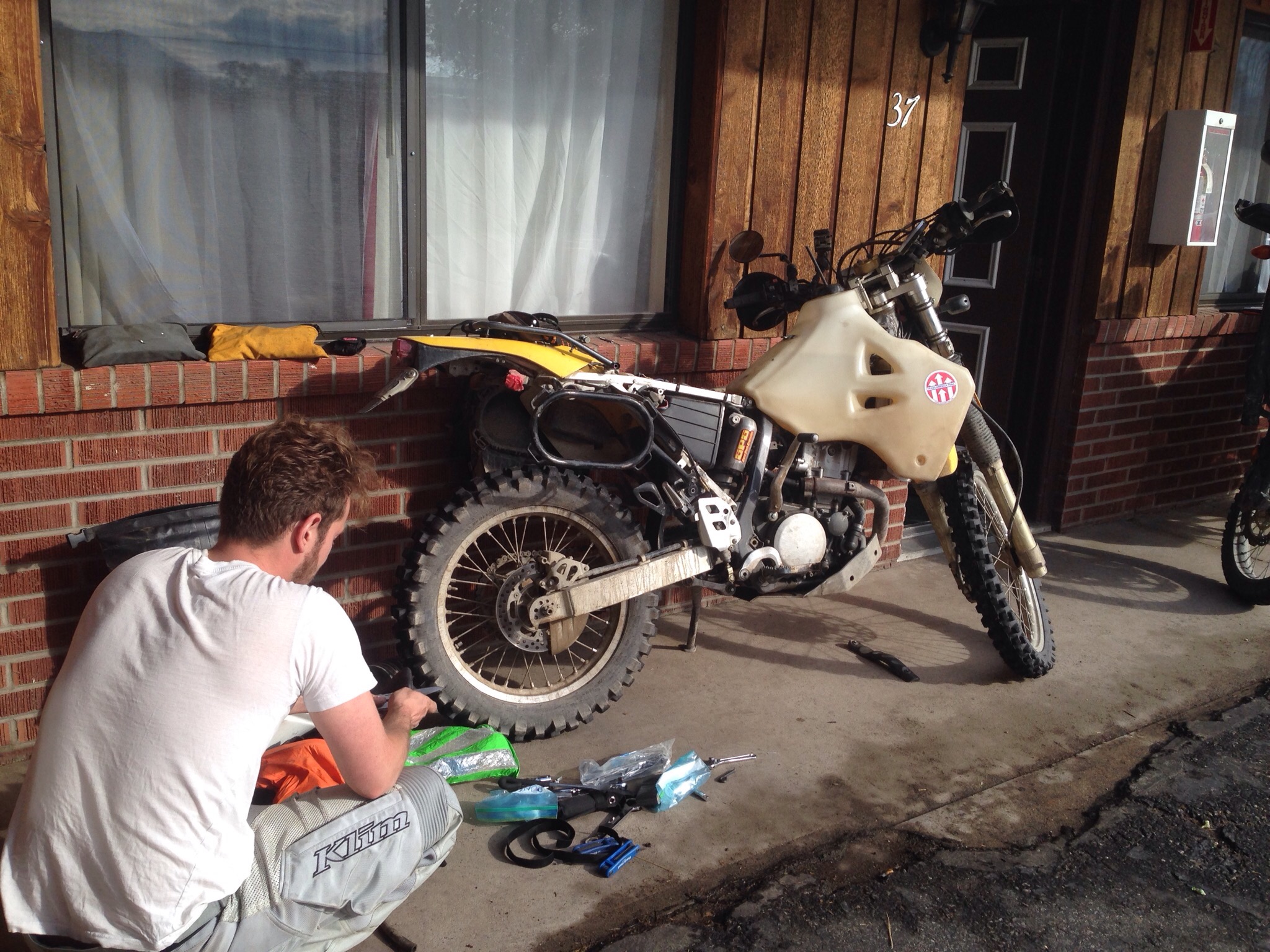 Opting for a motel we rolled the strip in Salida and discovered our pet friendly room would be $170! I desperately needed sleep and Adam needed a place to strip his bike so we went for it. There was a rodeo in town and even the Internet couldn't help us.
Another pass and rolling tree lined roads through undulating forest put us through Silverton for lunch then up up up back into the forest and a campsite overlooking an incredible valley. We were really in the middle of nowhere cooking my last Quebec bought rehydrated Shepherds pie, then hanging all out food in a tree to prevent bears getting it.
That night was my first experience of coyotes. They were right outside the tents making this weird yap/howl/screech. I should have put earplugs in because there wasn't the best sleep to be had at over 10,000ft it was cold too.

The states have very different characters because after the woods came miles and miles of nasty gravel toward Utah. I had to stop and reduce my tyre pressures which made a remarkable difference in the ease at which Ginko carved the deep stuff, but increased puncture paranoia from the 'sticky outy rocks' we warn each other about over the radio.
On the plains a house came into view so we took a look. It was a dust bowl era house that looked as if it would collapse at a gust. Cecil turned up in his truck and confirmed our theory then gave us the best local knowledge. A canyon not oft visited but as spectacular as the Grand was promised. We had our doubts but were gobsmacked when we saw it. As usual, the pictures don't really do it justice.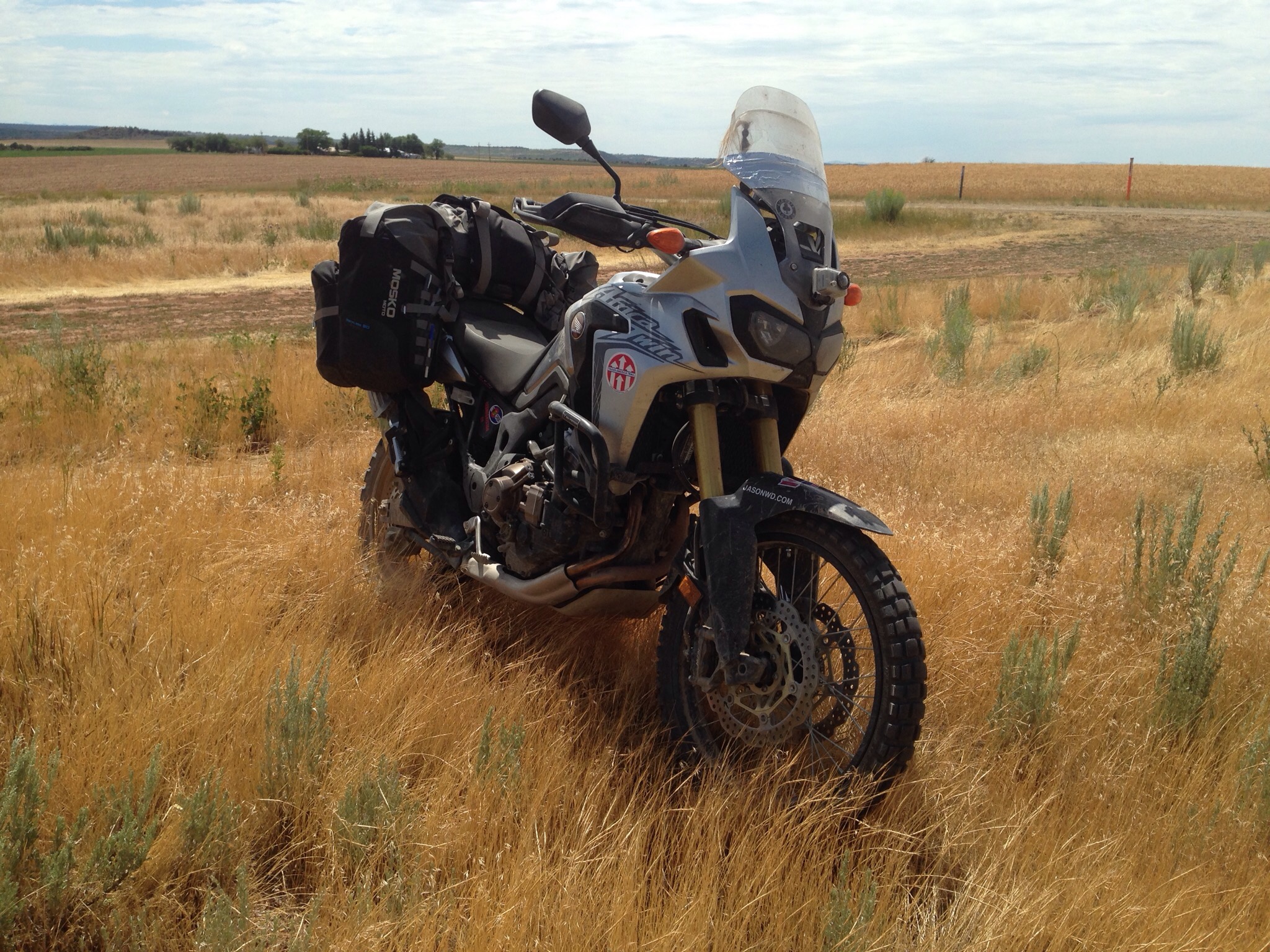 Onward! To the Hideaway we went, crossing to Utah, washing the bikes and arriving to a note at 3 step that said 'come in and make yourself at home'.
When Scott and Julia arrived we were given a cabin and shown to the Livery where my new tyres were waiting. The thousands of miles from The Saint's house had taken their toll on the poor Shinko 804/805 combo and they really needed retirement to get me to Victoria, BC.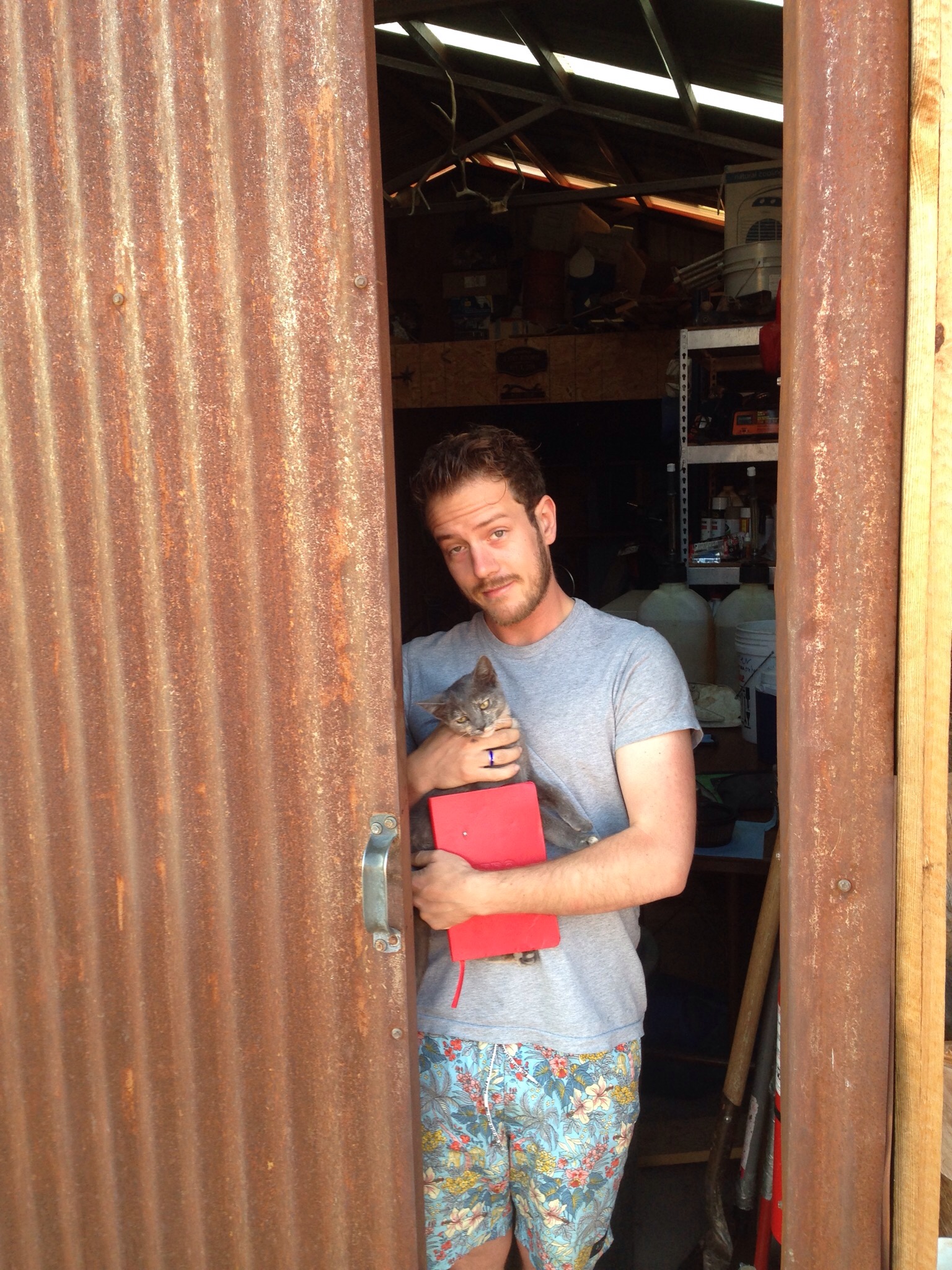 It's a good thing Scott's 3step Hideaway workshop has a concrete filled barrel because getting those huge tyres off and on is a mother f**king b**ch ass pain in the hole.
Adam also had DR Zeleaky (her new name) apart in a constant struggle with the oil hoses.
Scott needed to hunt for a bag his previous guests lost and offered to take us along in the ATV. What a cool and incredibly capable vehicle! We followed a dry river bed deep in sand then crossed back into Colorado via a very Zimbabwean fence. As a kid it was my task to jump from the bed of a pickup and drag these barbed wire fences away from the path of the truck. The bag, containing an expensive helmet, was just beyond, having being flung from the race prepared ATV that was no doubt skipping over the gnarly terrain faster than the average highway family sedan speed.
We loved being at 3step and wanted to relax there, but Adam needed to replace his hoses and possibly get a fan rigged up to his radiators. We awoke from our cabin to a delicious huge breakfast and headed to Moab on Ginko and her new tyres. It's odd that town is a hundred mile round trip, but we arrived in a 42°C Moab and scouted for parts. No luck with the fans: we were looking for computer fans to bodge onto the radiator of the DRZ, but a bloke in the NAPA suggested we get a mister bottle (the kind your gran uses on her geraniums), so we got one of those too. The motorbike shops were surprisingly bad, at least compared to the bicycle shops I went to in my past Moab visit.
A lovely steak dinner and more bike fettling followed with Scott's angelic presence reassuring us with all our idiotic wrenching. The man knows his bikes but won't interfere unless you really need him. He's a top bloke who should be supported in every way. Go to 3 Step, you'll enjoy the place no matter what.
We left and back to the TAT. Aaaannnnnnd… DR ZELEAKY STIKES AGAIN!
We stopped to put our rain gear on and Adam discovered that his exhaust was burning a hole in the oil catch tank.
Next time. How do we fix that?
Click here to read the next instalment – Utah desert – Desert for Dessert