Eating fine food and recounting stories to Mitch and Rhys, cousin Adam and Carolyn's great friends, seemed like a surreal parallel life from living in a tent and getting covered in dust every day.
I visited the enormous REI and picked up a pair of discounted travel shoes because I lost another pair of flip flops from the agressive bounce of the dirt, and a mesh sack to put my drying clothes in on the outside of the panniers. I was secretly hoping to pick up a travel chair but they are a bit too much cash and a bit big. I also spotted a phone holder in the bicycle section for $25 that looks just like the $250 Touratech one. Bargain. I had been using an ill fitting pouch with a clear cover that was cooking my phone. It was no fun waiting in the heat for my phone to cool down whilst in Oklahoma. Remember the pics on the plains? They were the result of pouring water from my CamelBak over my phone to revive it.
In my luxurious slumber I was thinking about helmets too. The problem is that riding by myself is dandy with my lovely Shoei, but as soon as you are following someone dust becomes an issue and you need goggles. I had been looking at a Bell Adventure helmet but, despite the amazing value, the extra cost had prevented me from picking one up. The gods must have been looking down on my because on searching the motorcycle section of Craigslist Denver for 'adventure' up pops the perfect example at a price that QVC watchers would be dialing for.
Joe the Jeep gets me the slightly farther distance than I thought and Ralph explains that his other half doesn't really use it. The helmet is perfect and as we chat I realise Ralph lives in his amazingly well equipped Mercedes Sprinter Van. Being an aerospace engineer he has completely decked it out for comfortable and stealthy living, including a hydraulic lift on the back for his bike. It's weird because Anne spotted one in Valle Bras du Nord and said it would be cool to do that. What is fate telling us?
It was a great pleasure to sit on the front porch with Uncle Peter and give my perspective of the magical farm he had in Zimbabwe. We spent a lot of time there as a family and it is a big part of my makeup. He also had some great insights about the family that I never knew; like my terrifyingly posh great grandmother thinking my grandfather was a failure whilst sitting having tea in the garden of his beautiful mansion in Salisbury (Harare).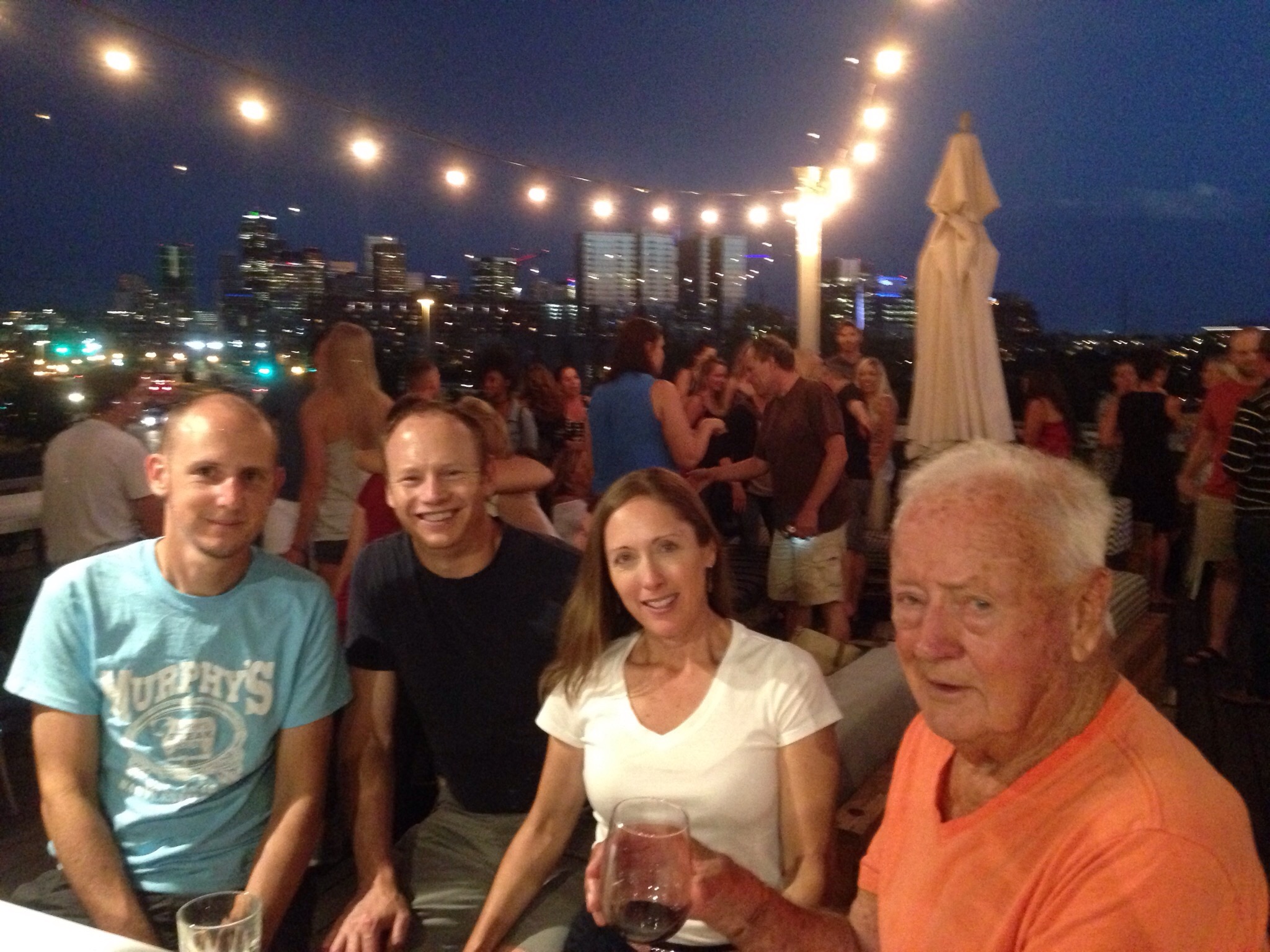 I picked Adam B up from Denver International and the next day we spent making the Whitehead's garage look like a mechanised refugee camp by spreading the contents of our panniers across the floor. The theme of the next part of the trip was set by Adam disassembling his bike and fiddling with the carburettor to adjust for the altitude and fitting a longer stand that required more hardware.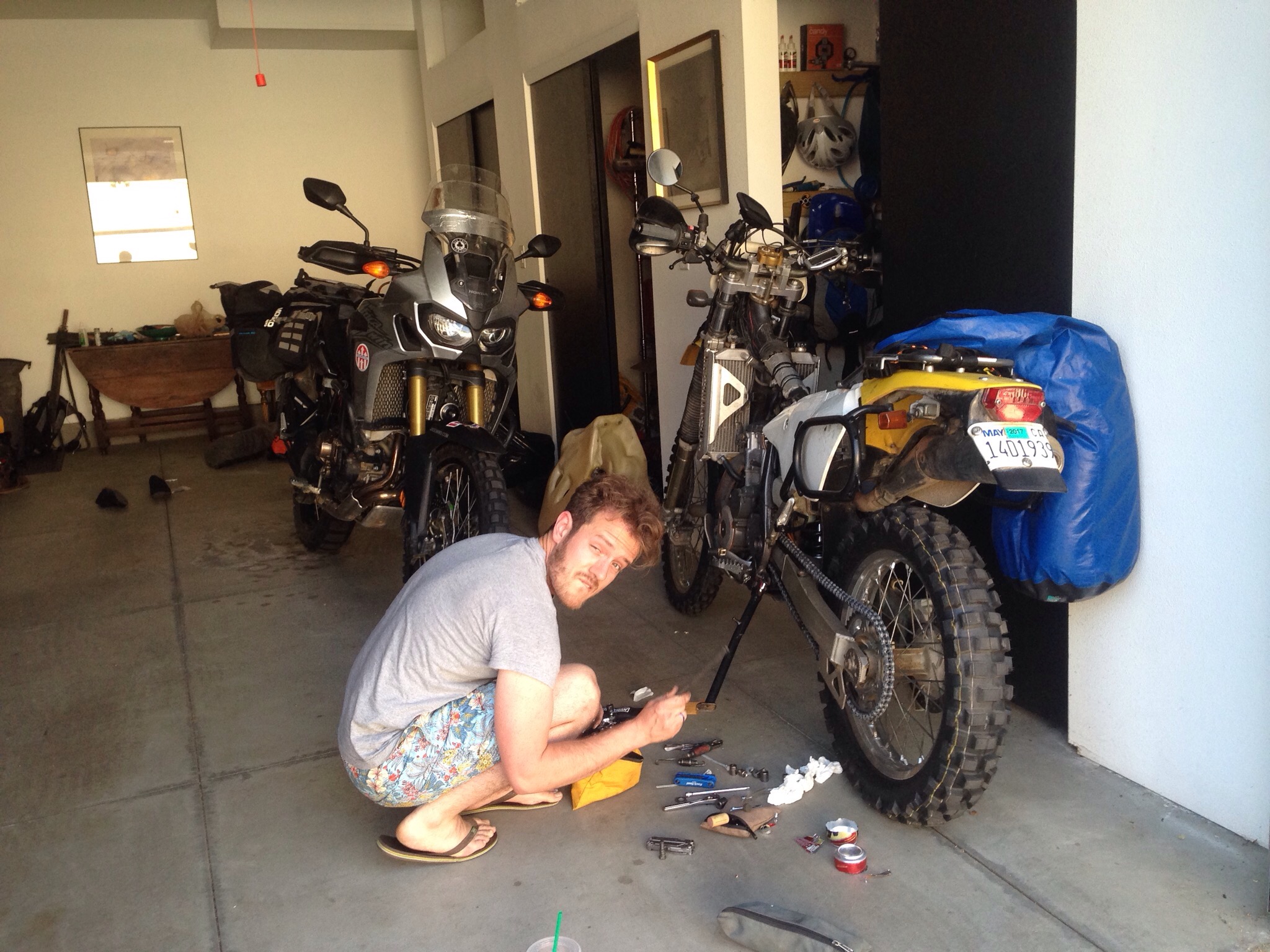 By the time we sent some stuff home (my helmet and the maps I had already used) and farted about it was much later than we really wanted but said our goodbyes to the incredibly patient and thoughtful Whiteheads and we're off into the setting sun.
The cardinal rule of adventure travel is: Don't travel at night. We cruised Denver's southern edge and Adam had a problem. His rear tyre was loosing pressure. We stopped, checked, stopped, checked the came across a bar. Cowboys and food. Real cowboy dancing with his lady and real cowboy drinking a beer at the bar; stools with horse saddles and two English blokes dressed like astronauts.
Back on the incredible but darkroom black twisty road I dropped Ginko simply turning round and we called the night. The crash bars that I had imported from SW-Motech in Germany were worth their weight because the hard dirt road would have destroyed my radiators. Through the darkness we hoped we'd find a little spot to kip and rounded a corner to see what looked like a Mexican tent festival in one of the Bureau of Land Management (BLM) sites. Pickups and communal tents with drunk Hispanics loudly talking about romantic entanglements with hot nieces.
We needed sleep and set up camp sharpish in a spare spot to be woken by wood chopping at 2am and more loudness so at 5am we broke camp and headed off into the mountains. Down the beautiful snaking Tarmac and into more arid climbs Adam's Suzuki started spitting oil. We stopped and for the second time his petrol tank was off and we were in the back of a filling station hiding from the heat with a bike in bits. We secured a hose and fiddled more then were off up the dirt.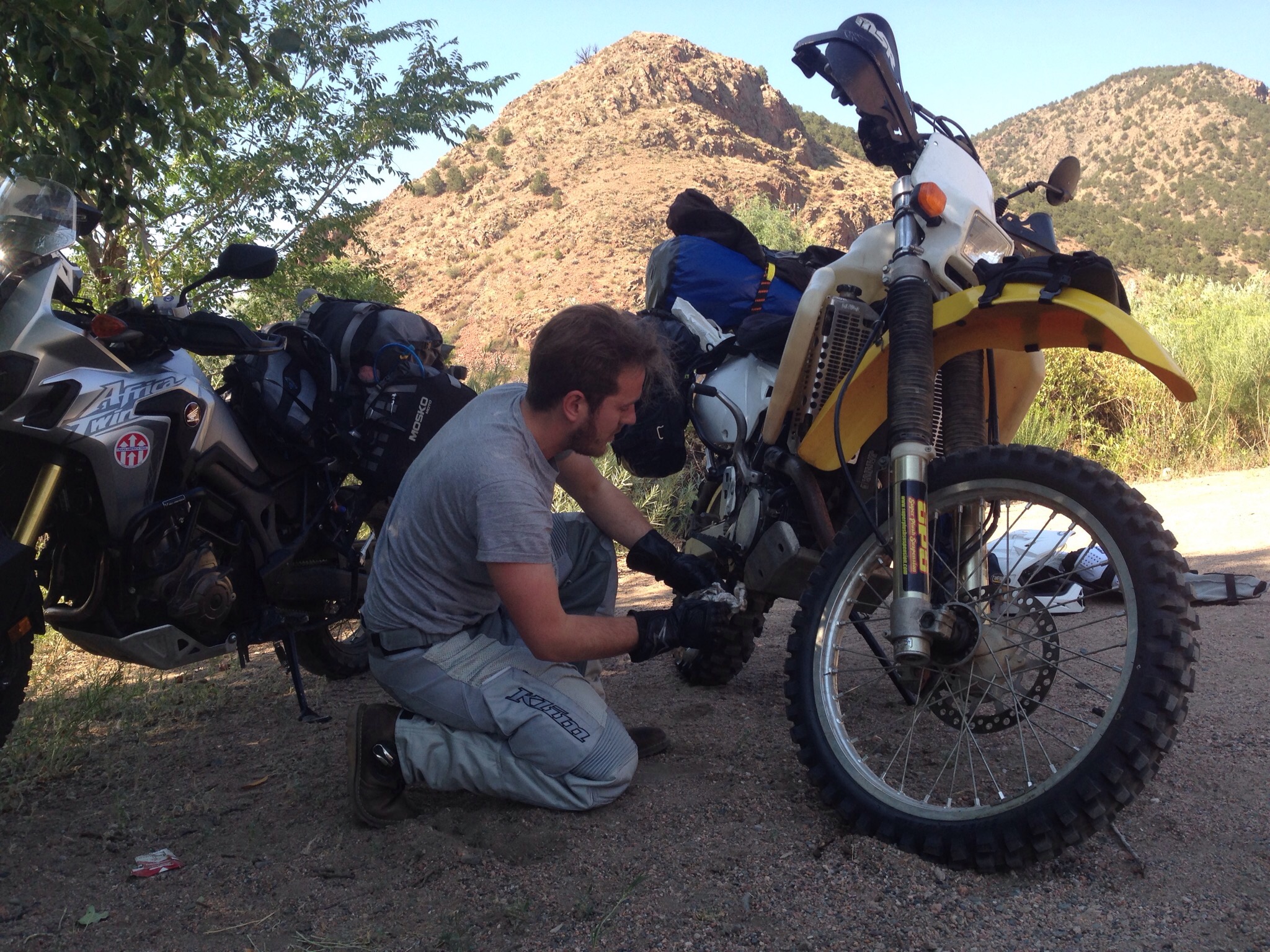 This may get dull, but Colorado has some truly stunning scenery. We rode up through forests, cattle plains and incredible valleys then up to our first pass. I didn't really know what to expect from a pass but there was some pretty extreme riding for someone on a 225kg machine with full luggage. At one section Adam warned me that he had stopped before a rock garden but I had to push through and Ginko did her best and powered through the baby head rocks and boulders to eventually crest the summit and down the other side to Salida. By now Adam's DRZ 400 was spewing oil again and we found the workshop of Dustin who was recommended to us by some blokes on the trail riding KLRs. Despite not knowing us from Adam (see what I did there??) Dustin dropped what he was doing and delved into the problem, pulling hoses off and going to his computer to look at parts diagrams. In the rain of the car park Dustin worked out that the breather tubes were blocked and needed attention so Adam and I decided a motel was the best choice and he set about fixing the problem under the canopy of our pet friendly room.

Excellent pizza was had in the cute little mountain town of Salida that night and we retired to arise and start all over again, but this day would be the most epic. The passes in Colorado take you over the high peaks in a way we never ever expected. There are very steep rocks to climb and loose rocky switchbacks on extremely exposed ledges. Epic is an over-used word but it really fitted this day. I think we crested four passes and descended loose corners and ledges with extreme sketchiness whilst trying to avoid the jeep traffic of the devotees that make the pilgrimage to trundle up the magnificent mountains.
Coming down to a clearing I thought I saw a mirage. Ginko was standing in on a flat spot with some blokes around her. No it wasn't Ginko, I was riding her, it was another Africa twin! Then behind I saw another one! Weirdly there were now three of these unicorns in the same place. We got chatting to the owner of the red one who actually works for Honda and bought his at full retail because they are so hard to get hold of. Rely and Ann were fantastically enthusastic about our travels and have offered to replace my shameful KTM umbrella with a nice Honda one. I just need to work out where to get them to send it! Only after chatting for a while did I realise that we were at the continental divide so Anne snapped a pic of us and we set off down a lovely smooth road to file up at Sargent at the bottom of the pass.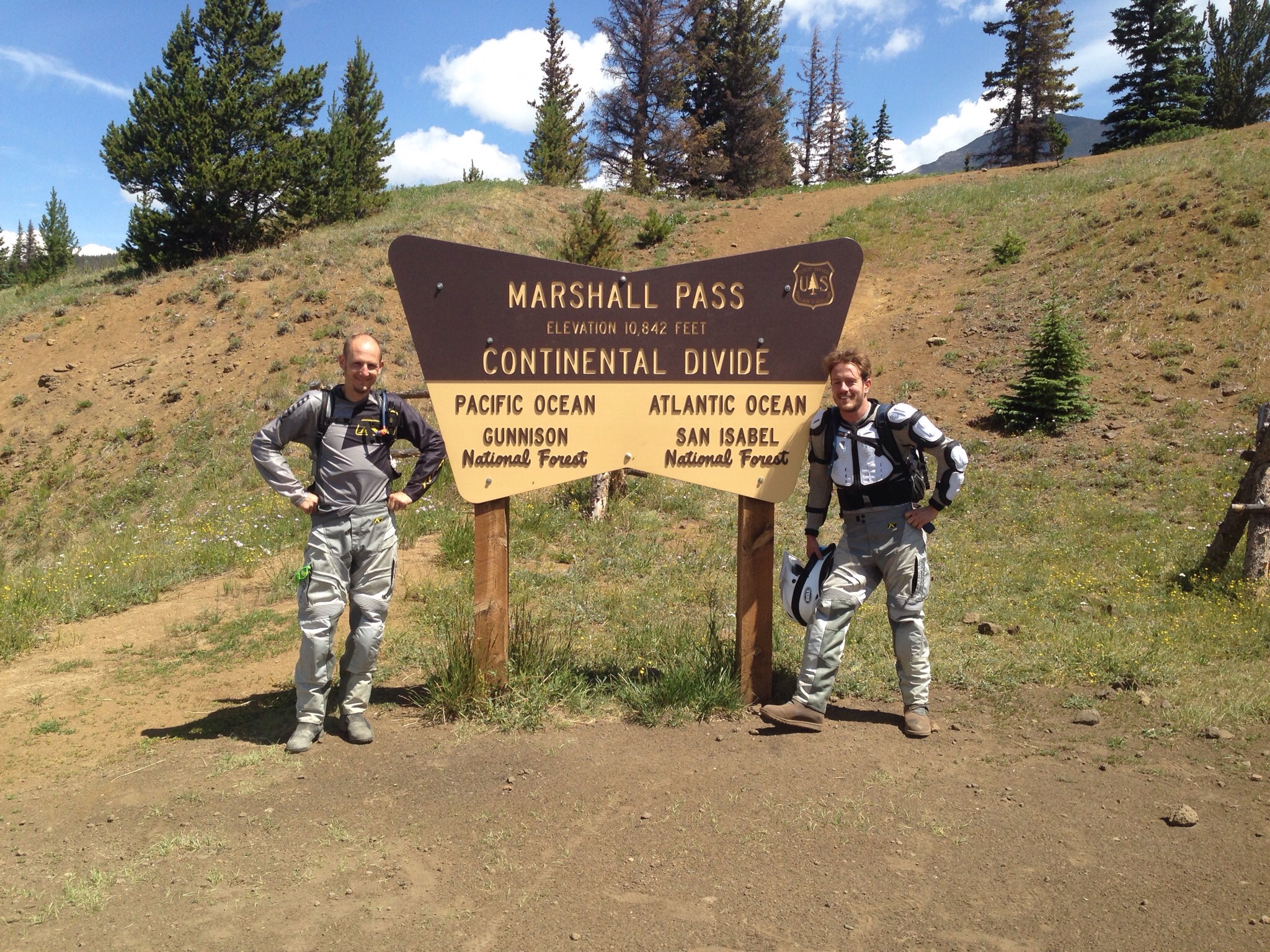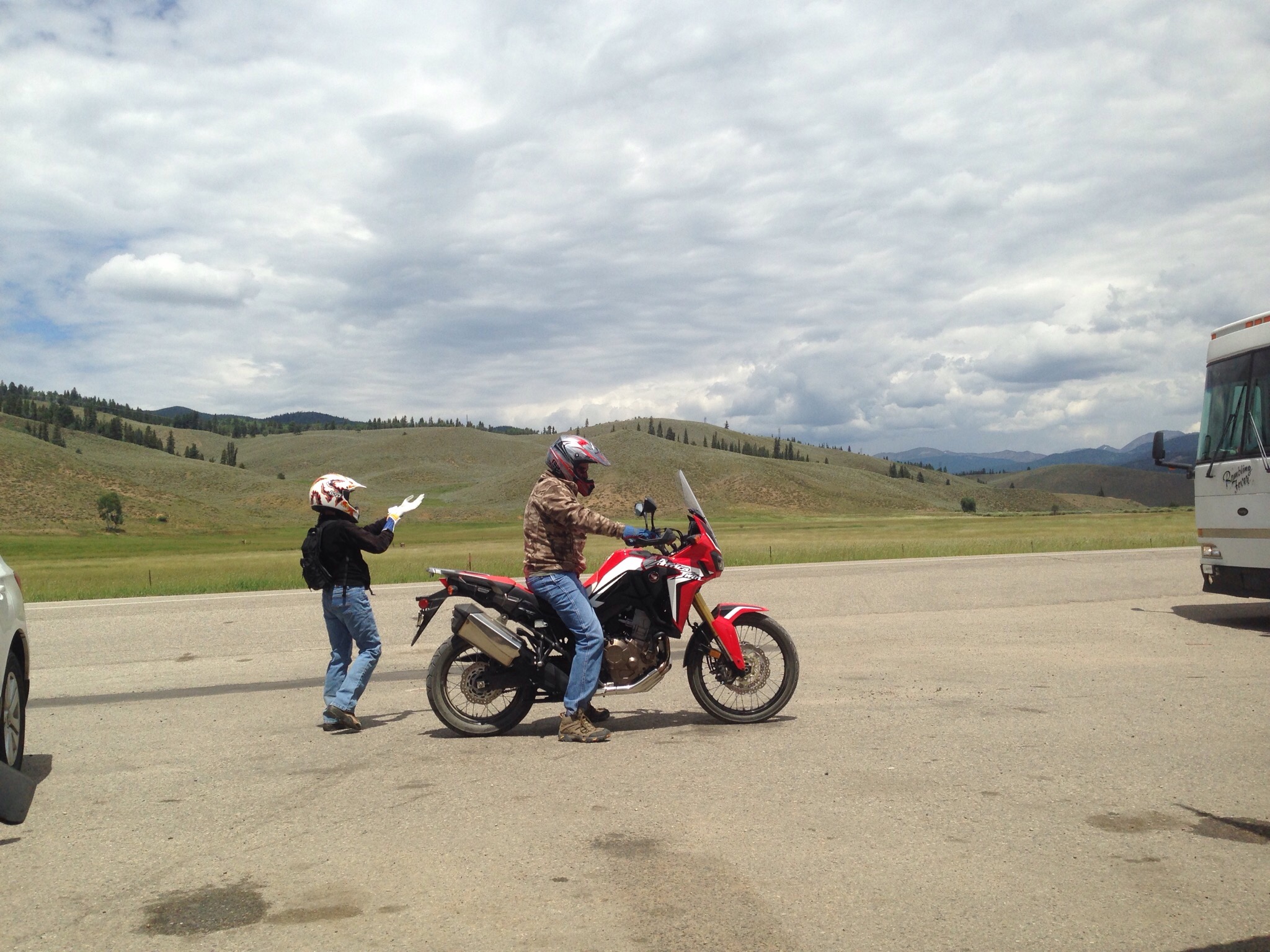 On one descent I needed to make way for a Jeep, stupid descision, and moved up onto an off camber loose cutting where my front tyre couldn't quite take the load and I lost her. We soon righted her and we're back to the challenge.
Sitting chatting at the store in Sargents a dude pulls up on a bike, the kind you peddle. He looks like he is coming to work, riding a cheap hybrid and wearing leather slip ons. This dude, Chris is the real deal. He makes me feel like a total fraud all dressed up in my adventure pyjamas because he has cycled from Huston, Texas headed to Washington state. Adam and I adopted our Cycle Surgery past and lubed his chain and checked over his bike then gave him the candy bar he requested and huge props for his efforts.

After Sargents we climbed a wide road up to a farm on the hill and saw encroaching lightning and rain so donned the gimp suit and Adam his oh-so-cool Belstaff jacket. We were both extremely worried about getting hit by lightning and made a navigation error. Actually the road moved. The maps and GPS told us to go up a two track technical little farm road and turn up a wash that was impossible.
So, to set the scene: it's raining we're lost and we are scared of being killed by lightning so we have a wee. Adam then asks if my camelback was under my gimp suit and I freak out because it's lost. Backtracking to the farm where we put the gear on, down the technically hard track the bag is not there. The cute cat is. Making a plan Adam heads back up the difficult track and I go down to Sargents to see if I left it there.
I'm freaking out because my whole being is in that bag and it would be a disaster to the trip if I lost it.  Against Adams wise advice I speed down the road and meet a pickup who flags me down and I slew to a stop in a cloud of dirt. The true gent of a man, Blake, had seen it and picked it up. He had to go through it to see who owned it and took the initiative to look at the inreach to see where we were going. I owe this bloke a lot.

Next time on our travels.. Generators, cinnamon and coyotes.
Click here to read the next instalment – Colorado to Utah – Dr Zeleaky