I succumbed to the YOLO. I think the itch went from one of those "groinal that I'm going to scratch through my pocket and hope no one sees" to unbutton flys and make like grating cheese" when I went for a ride with a friend on his KTM 390, (me on the Ducati) just after COVID hit. Our tarmac ended and turned to dirt. It really bothered me that I couldn't have that lovely drifty feeling that transitioning from tarmac to dirt gives you. Instead we awkwardly scooted 180 in the road whilst being iced with dirt by speedy pickups.
Of course the beloved Africa Twin was top of the pops for knobbles. What more could one want? I mean, if you're reading this you'll know that I have spent almost too much time aboard the Japanese African and regard it as the ultimate tool to cross a continent both ways. Then that niggle starts. Weight. I'm not going to be zigging then zagging across this massive land mass like before. I need fun. Bursts of fun and something that could do a distance.
Aah the hunt. Back to the hunt.
Since I bought Ginko, my beloved Africa Twin, there have been two iterations of the species. The first was a basic mutation with a little refresh and an 'Adventure Sport', then the 2020 version showed its head and increased the engine size and a load of other changes, including Apple Car Play. This both super turned me on and off at the same time. The bike got bigger and more complicated. DARN. I wanted smaller and less complicated.
Yamaha Tenere T700. They're onto a winner with that thing. It's light, sleek, simple and looks like a super cool Paris Dakar rally raid weapon. By all accounts it looks like the most sensible choice. The press really like it and it's priced right. So right, in fact, that they nearly sold out in British Columbia. But round the corner something with kinda evil eyes and bulging pecs was looking. Looking and beckoning.
After asking a dealer near me about the T7 his allocation was out and he said "I bet you just walked straight past that 790 out there?" I did. All those KTMs look the same to me; anyway the headlight is weird. And that started it. The obsessive reading and watching. Work has been mental and my mental break has been research. Nerdy research. Youtube, forums, Instagram, Reddit, hell… even Facebook. I was in deep.
So here it is. My brand new 2020 KTM 790 Adventure R (yet to be christened, Hedy is in the running).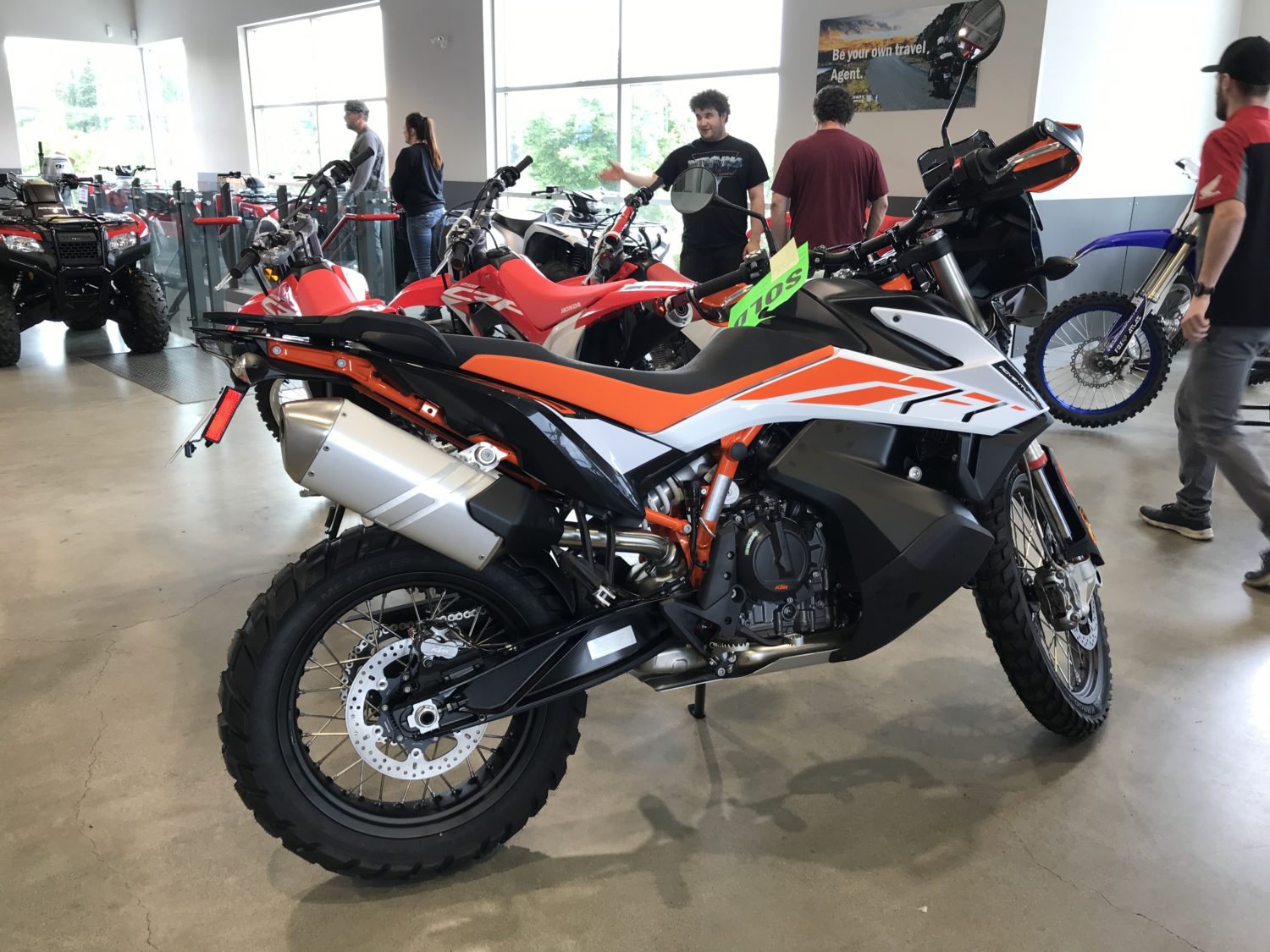 So, wossitlike?? Well. The difference is like a well worn pair of dress shoes versus a pair of fell running shoes, or Chinos versus those new jeans that are like wearing jogging pants. It's sprightly and lithe. When I dropped Anne off after we came back from the dealer I went off for a quick scoot around the neighborhood and ended up airing off two dropped kerbs and railing a grass bank. Naughty. Fun. Involved and sprightly. I haven't even run it in yet.